Lord Mahesh (महेश्) – The Tamsik - The Destroyer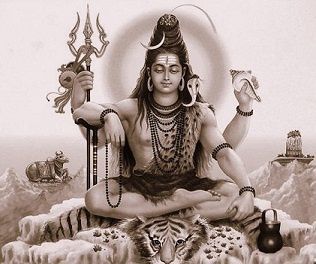 Lord Mahesh or Shiva, the 3rd God of the Hindu Trimurti, is the Distroyer
Mahesh represents the hot-blooded (Tamsik) – dream, thought, action, character, and destiny – way.
His attributes represents victory over the demonic activity, and calmness of human nature.
Shiva is a the part of the Hindu trinity which has dominion over death and destruction.
He appears in a meditating but ever-happy posture having matted hair which holds the flowing Ganges river and a crescent moon, a serpent coiled around his neck, a trident (trishul) in his one hand and ashes all over his body.
He is known as the "giver" god.
His vehicle is a bull (symbol of happiness and strength) named Nandi.
Shiva-Linga, a sign of the Lord, is adored instead of him.
Shiva is also considered the greatest of the yogis, the lord of meditation, and the lord of all that is mystic and mysterious in hindu practices.
Legend has it that the holy river Ganges (or Ganga) is in fact a representation of Lord Shiva's long hair.
Some texts refer to the five letters as the forms of Shiva - Na-gendra (one who wears a garland of snakes), Ma-ndakini Salila (one who is bathed by the water of the Ganges), Shi (the supreme Lord), Va-shishta (one who is praised by the sages like Vashishta), and Ya-ksha (one who takes the form of Yaksha).
The Om Namah Shivaya mantra or chant consists of six syllables - om, na, mah, shi, vaa, ya.