Brahma, Vishnu and Mahesh (or Shiv) - These sacred characters appear in the Rig Ved. Each represents a concept:
Brahma - Satvik - The Creator
Vishnu - Rajsik - The Preserver
Mahesh or Shiva - Tamsik - The Destroyer
These three personify as under:
| | | |
| --- | --- | --- |
| Mahesh | Vishnu | Brahma |
| Destroyer | Preserver | Creator |
| Tamsik | Rajsik | Satvik |
| Childhood | Youth | Old Age |
| Over energetic, innocent, coarse, noisy, quarrelsome, intolerant, hot-headed and rash | Energetic, kingly, protects, sustains, acts and pervades | Relaxed, simple, calm, remote, uninvolved and saintly |
Characteristics & Energy Levels of:
Mahesh (Shiv) are that of a Child
Vishnu are that of a Youth
Brahma are that of Old Age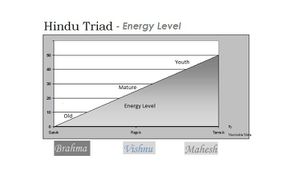 These 3 basic characteristics, having the same qualities, are found everywhere:
Life
Universe & Nature
Food
Life
All life and life-forms have these three stages
| | | |
| --- | --- | --- |
| Tamsik | Rajsik | Satvik |
| Childhood | Youth | Old Age |
Universe & Nature
Every thing in nature has a cycle and each cycle has these three stages:


Tamsik

Rajsik

Satvik

Childhood

Youth

Old Age

Universe

Systems in formation

Systems in Prime

Collapsing Systems

Nature

Mountains

Young Systems

Mature Systems

Old Systems

Rivers

Where rivers start

On the Plains

Nearing the end
Food
Food has been divided also into these three qualities
Tamsik

Rajsik

Satvik

Childhood

Youth

Old Age

Foods contributing to lethargy, laziness, and inactivity.

They decrease motivation & purpose, and are associated with depression.

Overeating is also considered tamsik. Tamsik foods give excessive heat

eg. - include meat, fish, eggs, drugs, onions, garlic Tobacco and alcohol, as well as any foods that have been fermented, burned, fried or reheated many times. Mushrooms, as they grow in darkness, are also considered tamsik.

Foods that cause excessive energy and agitation, leading to discomfort.

They create a distracting, restless state of mind. Rajsk foods include stimulants such as coffee, black tea, sugary foods, chocolate and spicy and salted foods.

Foods that promotes health, vitality, strength, and tranquillity calming the mind and sharpen the intellect, maintaining mental poise throughout the day. They sooth and nourish the body.

Satvik foods include milk, raw fruits and raw or lightly cooked vegetables, nuts, seeds, legumes, whole-grain bread, dairy products such as cheese and butter, and herbal tea. They must be additive and chemical free.